Holiday Gift Giving Tips
Gift giving can be a fun and meaningful way to show gratitude and care for others! Here are some tips as we approach the gift-giving season.
The Joy of Giving: Giving a gift to someone else can bring them happiness and joy. Remember that giving can be just as important as receiving.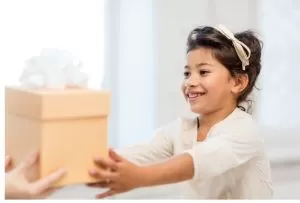 Make Handmade Gifts: Homemade or handcrafted gifts can be just as special, if not more so, than store-bought items. Use your creativity. You can make a gift from a drawing you create, a card, a sweet treat, or a handmade bookmark.
Think About the Cost: It's important not to overspend when buying gifts. Be sure you know how much you have to spend before deciding to buy any gifts – your parents can help you with this! Remember that the value of a gift is not determined by its price tag, but rather the thought behind the gift.
Experiences Make Great Gifts: Planning a fun outing is a great gift! Give a parent or grandparent a coupon for a day at the movies or the park, or an evening baking cookies together.
Volunteer: Did you know you can gift your time? Volunteer at a local food bank, the local humane society, or to help out neighbors in need. This is great way to give to your community without spending any money!