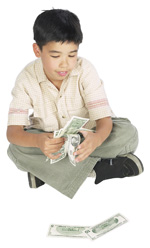 When you get some money, you might think about all the things you could spend it on. But instead, you should save most of it. Use these tips to help you!
Pay yourself first. That means, when you get any money (such as an allowance, a gift, or money you earn) save some first. Then decide if you can afford to spend any money.

Plan for future expenses. Are you going to the movies in a month or two? Start saving money for your ticket and a treat now. Are you having friends over and planning to rent a movie? Even though it doesn't cost too much money, put some aside now, so you'll be ready.

You can use this Savings Calculator to see how long it takes you to save for something that you want or for a future expense.